Jack Jewsbury has scored 25 goals in his MLS career--11 of which came in a Portland Timbers uniform. Each of them tell their own story. The 13-year veteran has scored goals that vary from long-distance goals to the slightest of tap-in. But quite a few of Jewsbury's goals have come in the game-winning or game-tying variety.

Jewsbury's most recent goal against the Colorado Rapids is the latest goal ever scored in an away MLS match for Portland Timbers and was a testament to Jewsbury's hustle and determination. After playing 93 minutes in the central midfield, Jewsbury raced near 75 yards to the Colorado penalty area and calmly finished with his left foot to send the Timbers home with three points.
After being traded to the Timbers prior to their expansion season, Jewsbury started his Portland goal-scoring career in impressive fashion, scoring the goal in an April, 2, 2011 draw at the New England Revolution which gave the Timbers its first point as a MLS club. After teammate Jeremy Hall fought off two defenders, he tapped the ball to Jewsbury, who then buried a left-footed finish.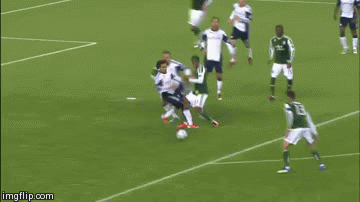 The goal against New England started an impressive season for Jewsbury that saw him score a career-high seven goals and he was named to the 2011 AT&T MLS All-Star Team. Other memorable goals from 2011 include the lone goal in Portland's first ever road victory in Chicago and a right-footed blast in a wild 3-3 draw against the New York Red Bulls.

In 2012, Jewsbury scored three goals and all three contributed to points for the club. Captain Jack put an end to a losing streak when he delived a stunning left-footed volley over Kevin Hartman to secure a draw against FC Dallas. His other two goals that season were a tap-in that led to three points against the San Jose Earthquakes, who went onto win the Supporters' Shield, and a long-range strike against Vancouver that delivered the Cascadia Cup to the Rose City.
Looking back at his time prior to the Timbers, Jewsbury's most famous goal was probably his 2004 strike in stoppage time that completed a two-goal comeback for the Kansas City Wizards against the San Jose Earthquakes in the MLS Cup Playoffs.